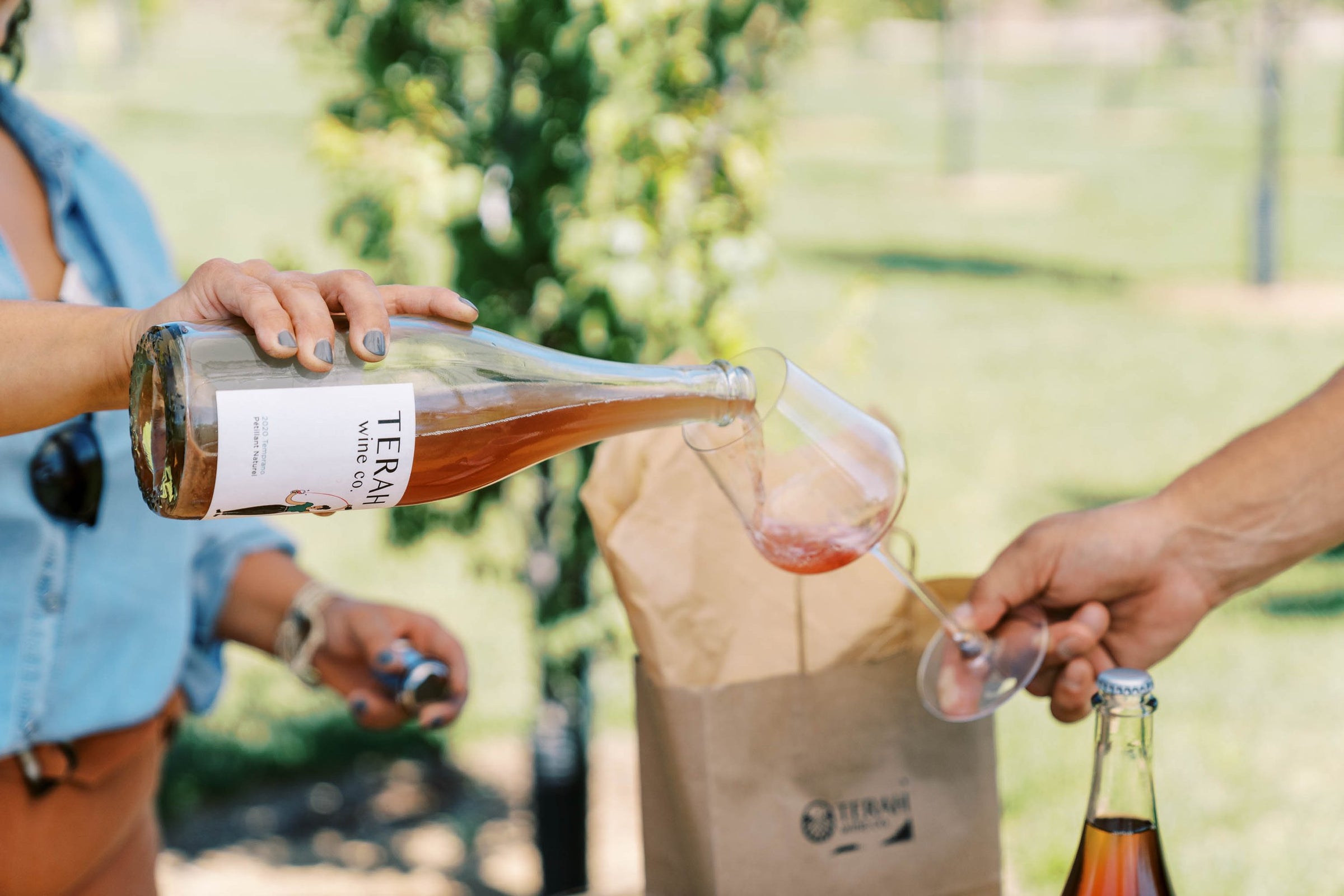 At Terah Wine Co we choose to work with organic, and biodynamic vineyards. We currently purchase fruit from independent growers. Specifically, we want to work with growers that care about the environment, the land, and the people they work with. The belief is that farming greatly dictates overall wine quality, which is always the focus for sourcing. The goal is to find unique microclimates and vineyard sites that are capable of showcasing outstanding varietal typicity and are capable of producing expressive, structured, balanced wine. 
We practice various traditional techniques that are long rooted in history and have great cultural significance. These methods have historically been used around the world for thousands of years and connect us on a personal level to the wines we produce. For example techniques such as skin contact with white grapes, utilizing native yeasts, or foot treading.

Terah Wine Co. practices minimal intervention in the cellar. Specifically, we want to maintain varietal typicity and vineyard expression in the finished product. For example, sulfur which is a naturally occurring by-product of fermentation is used minimally for stabilization purposes. We utilize science, personal experience, and intuition continuously in practice. Hand made in small batches, often with trials and experimentation. The goal is to push boundaries in an effort to consistently improve, excel, and make more enjoyable wine!
TERAH BAJJALIEH
A native Californian, Terah refined her unique style and found her love of wine by way of food and from her travels across the globe. She started her professional career in the hospitality industry studying at the International Culinary Institute in California. She then spent time working in wine bars, a Michelin-starred restaurant, wine education, and consulting in the Bay Area.
Terah ambitiously immersed herself into the international world of wine, studying Enology and Viticulture in both Spain and France. She completed 13 harvests covering five countries. Her flying winemaking experience includes the regions of:
Meursault (France)

Barossa Valley (Australia).

Marlborough (New Zealand)

Mendoza (Argentina)

Sierra Foothills (U.S.)

Sonoma (U.S.)

Napa Valley (U.S.)

The Willamette Valley (U.S.)
Terah holds a BS in Finance from San Jose State University and a master's degree in Enology and Viticulture from Montpellier Supagro in France. She is a Level 2 Certified Sommelier through the Court of Master and holds the WSET Level 3 Award in Wine & Spirits.