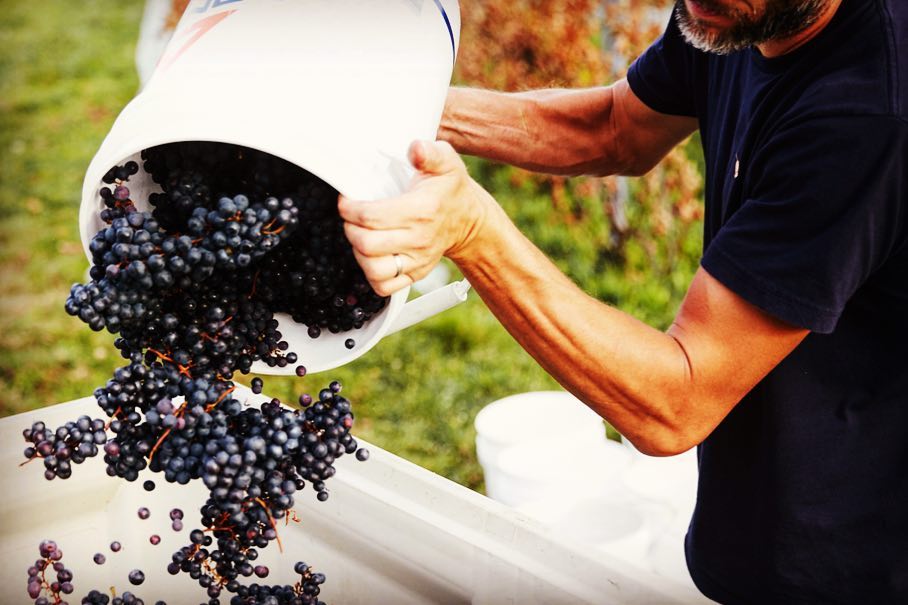 Since 2011, we have been sustainably farming 18 different grape varieties on five hectares. The estate vineyard is located on the west bank of Lake Memphremagog, in the Eastern Townships, and we also work with a second site on the banks of the St Lawrence River in the Lanaudière region.
Work in the vineyard is done manually, fermentations occur spontaneously, vinifications are done naturally without added yeast or other additions. The wines are bottled without fining or filtration or added sulphites (or hardly any). Nothing added, nothing taken away.
We are proud to showcase our Nordic terroir and climate with a creative spirit guided by each vintage. Seasonal variations and the surprises that come with them bring yearly changes in the character of the wines and the range of cuvées. From one adventure to the next, winemaking adapts in order to provide the most natural expression possible of the harvest.
Frédéric Simon
Pioneering a bright-eyed wine crusade within the extreme terroir of Quebéc, Frédéric Simon and his wife Catherine Bélanger tend to their 1.50 hectare winery with resolute sincerity and an evolving sense of place.
Discovery drives the work that they do here, with relatively new plantings of vitis vinifera such as Pinot Noir, Pinot Meunier, Gamay, Cabernet Franc, Dornfelder, Chardonnay, Riesling, and Savagnin (uncommon to the area due to arduous growing conditions). All vines are tended to organically, with minimal alterations in the cellar, leading Frédéric to a series of challenges to consider when combating the extreme cold of winter and inevitable frosts of spring.
While experimentation is well underway with the aforementioned varietals, production is quite limited and circulates mainly within the local market – championed by natural wine establishments such as Joe Beef and Catherine's own Moleskine and Pullman Bar à Vin.
The first cuvées available to the United States include Frangine White & Frangin Red – macerated La Crescent for the white and an assemblage of Marquette and Frontenac Gris for the red – sourced from a rented vineyard in Lanoraie. Both adhere to the same strict standards of minimal intervention in the winery, with no additions of chemicals, yeasts, acid, or chaptalization.
Frédéric enlists renowned Canadian artist/novelist Marc Séguin to imagine custom labels for each of his wines. A painter himself, Frédéric has long collected Séguin's pieces in his home – as far back to his days of co-owning restaurant Les Cons Servent and operating a wine importing business – before selling nearly everything he owned and working toward the vision and love affair that is Pinard et Filles.
Photo credits: Pinard & Filles