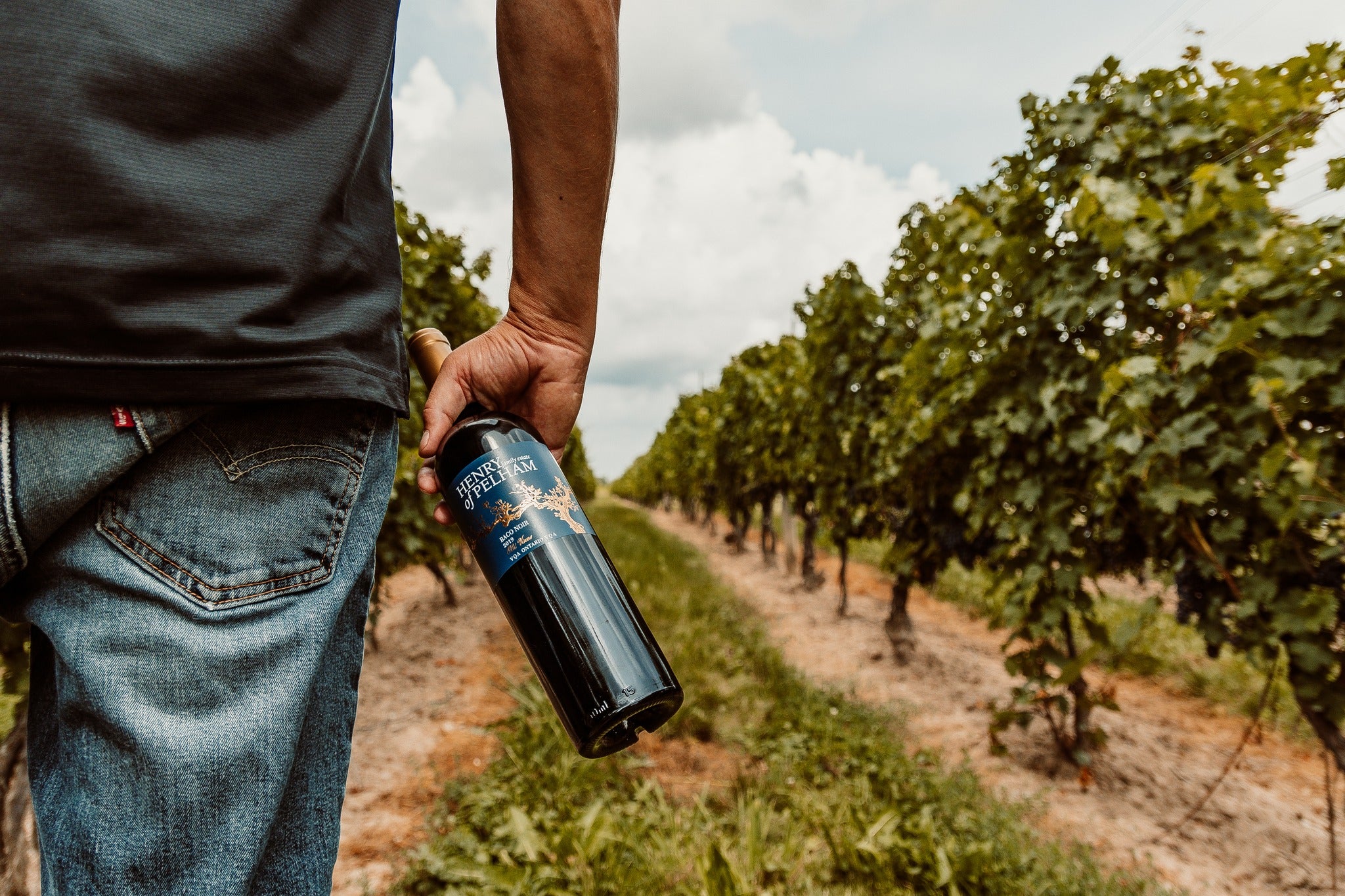 Henry of Pelham Family Estate Winery
- In the late 18th century, our great-great-great grandfather was deeded the land on which our Ontario winery sits. Fast forward six generations and we're still on the family farm. - 
We named the Ontario winery Henry of Pelham after great-great-great grandpa's son, Henry, who we think had a pretty dry sense of humour, nicknaming himself "Henry of Pelham" after a British Prime Minister. He was quite the entrepreneur, building an inn and tavern on the property and operating a toll road. He raised sheep. And grew grapes—some of the first to be planted in Canada. Our tasting room and wine store are in Henry's carriage house.
In 1984, when our parents decided to replace Henry's concord and Niagara grapevines with old world vinifera grapes, the Niagara wine scene hardly existed and there were a lot of naysayers—but we had done our homework. Heat scans proved we had the right conditions, and we bettered our chances by contouring the hills and installing drainage. At the time, we were one of only a few Niagara wineries to make premium wines from our own grapes.
Henry of Pelham's 300-acre vineyard is located in the Short Hills Bench
sub-appellation of the Niagara Peninsula.
The Short Hills Bench is the most easterly of the sub-appellations located within the Niagara Escarpment. It encompasses the land rising up from the plain of the peninsula south of Regional Road 81 to the Escarpment Brow and is situated between Twelve Mile Creek and Fifteen Mile Creek.
The undulating hills and valleys of the Short Hills, which rest on an ancient buried valley that once cut through the Niagara of
Escarpment and connected the basins Lake Ontario and Lake Erie, provide long gentle slopes with excellent drainage and sun exposure. The warm sunny days and cool nights characteristic of this area are perfect for developing the intense grape flavours derived from its complex soils. All Henry of Pelham Estate grapes and Speck Family Reserve wines are grown in the Short Hills Bench sub-appellation.
In 2006, Henry of Pelham was the first vineyard to be certified as local and sustainable by Local Food Plus. We've followed Sustainable Winemaking Ontario's world-leading standards in our farming practices since 2004. In 2017, we became one of only six Ontario wineries to be certified by the Wine Council of Ontario as following sustainable winemaking practices from vine to table.
Henry of Pelham Family

Henry of Pelham Winery is family owned and located in the Short Hills Bench of the Niagara Peninsula. Henry Smith, son of our original Canadian ancestor (Nicholas Smith ca.1778, fifer in the Revolutionary War) took his name from the toll-road which ran across his property. He built an inn, tavern and planted our first vineyards. As children we restored his vineyards to match artisanal grape growing to artisanal wine making.

They produce both still and sparkling wines and their most famous regional specialty, Icewine. Varietal, Reserve and Speck Family Reserve are the three tiers of still wines they produce centered on Chardonnay, Riesling, Pinot Noir, Baco Noir and Cabernet-Merlot. Smaller production Sauvignon Blanc, Pinot Blanc, Gewurztraminer, Gamay and assemblage style rose at the Varietal level.